home | motorcycle lifts | atv lifts | pwc lifts | boat lifts | mobility scooter | shipping - returns | contact us


Dock your PWC on shore.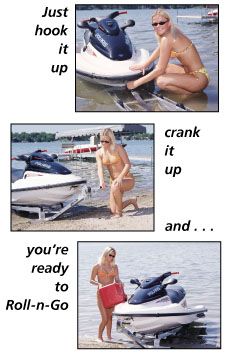 Use this ingenious patent pending dock on any sloped shoreline. Heavy duty aluminum construction with stainless steel hardware, yet at 55lbs. is totally portable. Your PWC easily glides up this simple-to-use system on non-marking rollers. At 1000 lbs. capacity and 11 ft. length, it easily handles any PWC from standup to 3 person models. Then lock up your watercraft with a simple bicycle lock. For extremely shallow water or tidal areas simply attach an additional 8 ft. extension section. This durable shore ramp has a manufacturers warranty of 5 years when used in fresh water and 2 years in salt water. For specifications, click here.
PWC Model - $749.
Optional 8' Roller Extension Kit - $525.

What if I need longer than 11 feet?
Extending Roll-n-Go PWC ramps for shallow shorelines or tidal waters is easy with our 8 ft. extension kit. Standard winch strap is long enough to handle one extra section.
Bracket shown for adding extension.

home | motorcycle lifts | atv lifts | pwc lifts | boat lifts | mobility scooter | shipping - returns | contact us
All items © Copyright Piper Sport Racks, Inc. All Rights reserved