home | motorcycle lifts | atv lifts | pwc lifts | boat lifts | mobility scooter | shipping - returns | contact us

SPECIFICATIONS
MODEL PWC - FOR PERSONAL WATERCRAFT
An alternative to in-water and floating lifts.
Non-marking wheels evenly distribute weight.
Adjustable rail width allows you to custom fit the width to any PWC.
11 Foot length will accommodate a 1, 2 or 3 person watercraft.
15 foot winch strap includes non-scratching PCW nylon loop.
Broad-based stand makes Roll-n-Go completely stable.
Max. weight capacity - 1,000Lbs; Weight - 54Lbs; Overall Length - 11'; Overall Width - 30"; Rail Width - Adjustable 11" to 14"; Roller type - "Donut" shaped Polyolefin; Number of Rollers - 14; Straight Bore Bearing; Aluminum construction with Stainless Steel hardware; Shelby Zinc Plated Winch with Dead Lift rating of 900Lbs,3:1 Gear Ratio, 15' Strap and Hook with Nylon PWC Loop.
A quality product made in the U.S.A.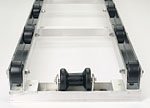 Proprietary channel and easy glide rollers.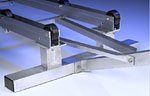 Welded aluminum construction with stainless steel fasteners.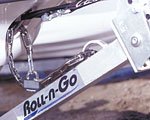 Lock your watercraft to the security tie-down to help prevent theft.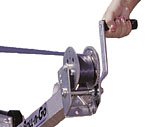 3:1 ratio winch allows effortless docking.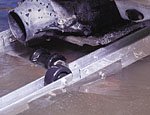 Bracket for the add-on section is easily attached to the end of the unit.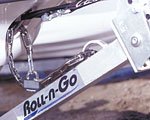 Lock down your PWC with an ordinary padlock and chain. Click Here to Order Roll-n-Go

home | motorcycle lifts | atv lifts | pwc lifts | boat lifts | mobility scooter | shipping - returns | contact us
All items © Copyright Piper Sport Racks, Inc. All Rights reserved