home | motorcycle lifts | pwc lifts | boat lifts | docks | shipping - returns | contact us
CRUISERLIFT FEATURES
The Cruiserlift System is the best engineered RV Motorcycle Lift System on the market. We know that you hear this same pledge from every manufacturer of RV motorcycle lifts out there. We feel that if you do your homework and digest all of the product information on the features and benefits available, you will come to the conclusion that the Cruiserlift is the best system for your Class-A motor coach.
At the bottom of this page is a standard features chart of the Cruiserlift system. The system may also be used to transport two small scooters, or two dirt bikes with the addition of another motorcycle tray. The Cruiserlift System is the perfect compliment to your motor coach when carrying your recreational vehicle toys. The Cruiserlift System may appear structurally overbuilt to some, but it was designed and engineered for long lasting appearance and durability.
The motorcycle tray has a ground clearance of 40" to allow the tow vehicle to motor coach distance to be as short as possible. This distance also keeps the motorcycle out of most road debris while traveling as well as keeping the motorcycle tray from bottoming out on the road while maneuvering steep road and driveway transitions. Other systems may have a 27" clearance, allowing the motorcycle tray to drag while moving over steep transitions in the road or driveways.
The Cruiserlift System can be fully assembled and disassembled by one individual in approximately 10-15 minutes. It is the only system available with a road dampening shock system.
The Cruiserlift System has a weight carrying capacity of 1000 pounds. In addition, you can flat tow a 6000 pound vehicle or tow a trailer with 100 pound maximum tongue weight.
STANDARD CRUISERLIFT FEATURES
SINGLE PERSON ASSEMBLY AND REMOVAL
WEIGHS 360 LBS. - REMOVES EASILY IN FIVE MANAGEABLE COMPONENTS, WITH THE REMOVAL OF 5/8" OR 3/4" HITCH PINS
WATERPROOF ELECTRIC WINCH SWITCH
CAN BE MOUNTED IN ANY DESIRED LOCATION
2000 POUND ELECTRIC WINCH WITH TWO CABLE/PULLEY TURNS, GIVING A 6000 POUND CAPACITY
WINCH AND CABLE ARE CENTRALLY LOCATED ON THE SYSTEM FOR A DIRECT LINE PULL, INSTEAD OF PULLING FROM THE SIDE OF THE COACH TO THE CENTER THEN DOWNWARD. NO HYDRAULIC FLUID TO LEAK, HYDRAULIC PUMPS TO FAIL, HOSES TO CRACK, OR VALVES TO STICK OPEN OR CLOSED
10 AVAILABLE TIE DOWN POINTS
8 FIXED & 2 REMOVABLE
HIGH STRENGTH GRADE 8 OR BETTER BOLTS AND HITCH PINS

SHORTEST TOW VEHICLE TO MOTOR COACH DISTANCE
TOW BAR MAY BE SHORTENED IN MOST CASES
INTEGRATED LIGHTING SYSTEM WITH TOW VEHICLE CONNECTION
LIGHTING SYSTEM IS ALREADY MOUNTED TO THE CRUISERLIFT SYSTEM. PLUGS ARE SYNCHRONIZED WITH THE MOTOR COACH TRAILER PLUG.
(RUNNING LIGHTS, RIGHT TURN, LEFT TURN, BRAKE LIGHTS)
KICK STAND TRAY
NO NEED TO FIND A 4x4 BLOCK OF WOOD OR WAIT FOR A BLOCK PARTY IN ORDER TO LOAD YOUR BIKE
BAKED ON BLACK SEMI-GLOSS POWDER COATING
FOR A GREAT LOOKING, LONG LASTING FINISH. MAY BE TOUCHED UP IF SCRATCHED.
ONE PIECE MOTORCYCLE TRAY FOR STRENGTH
FLAT TOW A 6000 POUND VEHICLE WITH BIKE LOADED (with optional tow bar extension)
MOST SYSTEMS HAVE A 5000 POUND FLAT TOW CAPACITY
32" TOW BAR EXTENSION, ONLY 18 POUNDS - Optional
PULLS STRAIGHT FROM THE CENTER RECEIVER-NOT THE MOTORCYCLE TRAY, UNLIKE OTHERS THAT PULL FROM THE MOTORCYCLE TRAY FRAME WHICH IS CONTINUALLY TRYING TO PULL THE MOTORCYCLE DOWN TO THE GROUND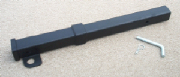 WITH BIKE LOADED, YOU CAN TOW A TRAILER WITH 100 POUND MAXIMUM TONGUE WEIGHT
1000 POUND MOTORCYCLE CAPACITY
SOME MAY ONLY HAVE AN 800 POUND CAPACITY
1/4" ABS MIST SHIELD -Optional
OPTIONAL MIST SHIELD REDUCES AMOUNT OF MIST OR DEBRIS FROM REACHING THE MOTORCYCLE
SELF-LOCKING WHEEL CHOCK - Optional
FITS ALL FACTORY ORIGIAL MOTORCYCLES. EASY ONE-PERSON LOADING AND UNLOADING
FIRMLY HOLDS MOTORCYCLE VERTICAL FOR QUICK TIE-DOWN. NARROW TIRE KIT AVAILABLE FOR TIRES 3.5" OR NARROWER
AVAILABLE IN CHROME OR BLACK POWDER COATED FINISH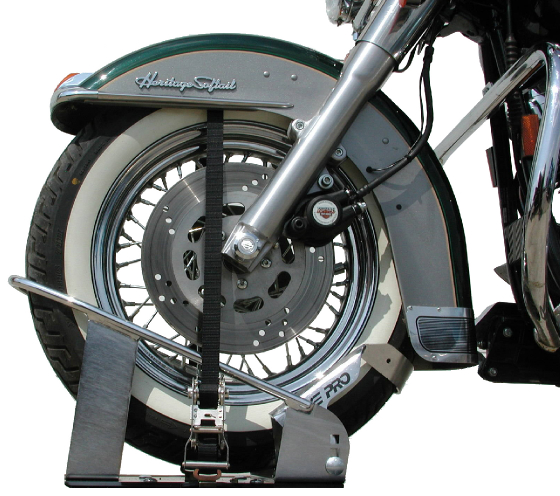 MEETS DOT G-FORCE LOAD STANDARDS
ENGINEERING LOAD AND STRESS ANALYSIS
40 INCH GROUND TO BIKE TRAY CLEARANCE
WILL NOT DRAG THE MOTORCYCLE TRAY OVER STEEP ROAD OR DRIVEWAY TRANSITIONS, ALLOWS FOR THE SHORTEST TOW VEHICLE TO COACH DISTANCE, KEEPS THE MOTORCYCLE OUT OF MOST DEBRIS COMING FROM UNDER COACH WHILE TRAVELING
ALL THREE RECEIVERS IN THE HITCH ASSEMBLY ARE UTILIZED WHEN SYSTEM IS INSTALLED
OTHERS MAY ONLY USE THE TWO OUTSIDE RECEIVERS
And, PRODUCT LIABILITY INSURANCE.... For Prices and Delivery - Click Here
home | motorcycle lifts | pwc lifts | boat lifts | docks | shipping - returns | contact us
All items © Copyright Piper Sport Racks, All Rights reserved