home | motorcycle lifts | atv lifts | boat lifts | mobility scooter | shipping - returns | contact us

SPECIFICATIONS - MOBILITY SCOOTER CARRIER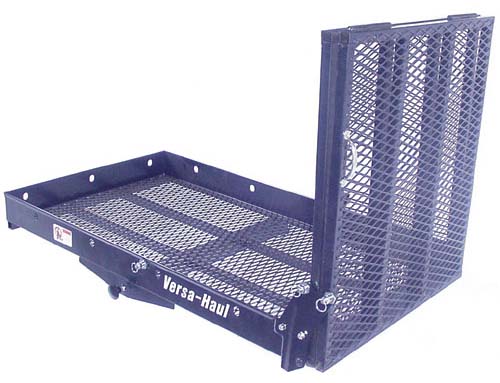 60 in. center folding ramp
Ramp easily locks into a folded upright position with spring pull locks
Ramp folds into a flat position when not in use
Ramp can be removed
Carrier tilts up when not in use. This carrier has multiple tilted positions.
Carrier comes standard with both class II(1-1/4") and class III (2") hitch inserts.
14 slots for tie down hooks
Tough powder coat finish
Tray has a 48 in. x 27.5 in. of carrying area
Anti-tilt locking device
Ramp handle
Approx. Shipping Wt.: 115 lbs.
Carrying Capacity Unit: 500 lbs.
Length of carrier tray: 49 in.
Width of carrier tray: 28 in.
Height of carrier tray: 6 in.
Length of ramp: 60 in.
Width of ramp: 27.5 in

Ramp Dimensions: 60"L x 27.5"W x 1"H

Ramp Weight: 30lbs.
NOTE: The Vehicle Carrying Capacity is determined using a formula that factors in the carrier and mobility scooter weight extended behind the hitch as well as the effect on spring compression. The leveraged force creates a mechanical disadvantage. For example, a weight of 300 lbs may exert 500 lbs on the hitch. In addition, the leveraged force may cause complete spring compression with subsequent adverse effects to your vehicle's handling characteristics. Auto ride suspension, air bags, and other suspension stiffening devices will increase your vehicle's carrying capacity. In their absence, however, be sure to contact us for Vehicle Carrying Capacity to avoid dangerous overloading.
home
| motorcycle lifts | atv lifts | boat lifts | mobility scooter | shipping - returns | contact us
PIPER SPORT RACKS, INC., P.O. Box 518, Penn Valley, CA 95946
All items © Copyright Piper Sport Racks, Inc. All Rights reserved