home | motorcycle lifts | atv lifts | boat lifts | mobility scooter | shipping - returns | contact us

HITCH-MOUNTED ATV, GO-CART LIFT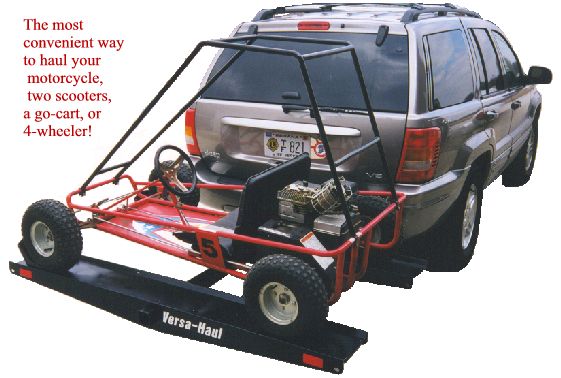 VERSA-HAUL's hitch mounted ATV, Go-Cart or Quad lift solves the problem of hauling a toy without the hassle of pulling a trailer. Designed for loads up to 700 pounds, VERSA-HAUL mounts quickly and easily to your vehicle's 2" receiver hitch. Equipped with a convenient ramp, simply roll your toys up to the mounting platform, secure with tie-down straps and you're on your way. Features include,
Sturdy 14-gauge steel rails for durability.
Tough powder-coated finish.
Fits into standard Class III or IV hitch.
Adjustable rail width to a maximum of 49 inches, outside edge to outside edge. The rails can also be slid together until they touch.
Optional ramp stores on carrier frame.
Optional no-drill, easy install taillights available.
Easily stores away.
Free UPS shipping to any destination within the Continental USA.
Check the lift specs below and check our Vehicle Carrying Capacity Chart to determine the correct application for you. NOTE: The Vehicle Carrying Capacity is determined using a formula that factors in the carrier and bike weight extended two feet from the hitch as well as the effect on spring compression. This leveraged force creates a mechanical disadvantage. For example, a weight of 300 may exert 500 lbs on the hitch. In addition, the leveraged force may cause complete spring compression with subsequent adverse effects to your vehicle's handling characteristics. Auto ride suspension, air bags, and other suspension stiffening devices will increase your vehicle's carrying capacity. In their absence, however, be sure to follow the recommended Vehicle Carrying Capacity to avoid dangerous overloading.
home
| motorcycle lifts | atv lifts | boat lifts | mobility scooter | shipping - returns | contact us
All items © Copyright Piper Sport Racks, Inc. All Rights reserved