Which is better, Clear, Smoke or Blue?
It is a cosmetic choice since the WindVest was not made to look through. Those with dark paint often choose Tint. To make the WindVest as indiscreet as possible, choose Clear.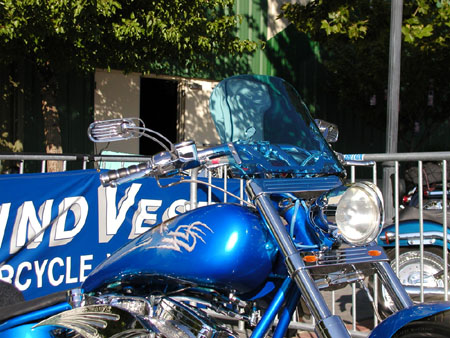 Which height should I choose?
If you are 5' 10" or over you would probably want the 16"H unless you sit extremely low in the saddle.
Is the windshield adjustable?
The height and angle of the WindVest are adjustable. The 14"H versions can be adjusted up and down 1", while the 16"H version is capable of 2" adjustment. For best performance, the top of the WindVest should be in line with the space between your nose and lips so the rider looks over the top not through the WindVest. The angle of the WindVest is also crucial to top performance and should normally be adjusted to line-up with the slope of the forks.
How do I clean my WindVest?
Both Novus and Meguire's, available from most automotive supply stores, are effective in cleaning and removing minor scratches. Do not use alcohol based cleaning products.
Did you fit larger diameter handlebars?
In addition to standard 1" sized handlebars, 1 1/4" handlebars and riser mounts of 1 1/4" and 1 1/2" can also be fitted.
Does the tinted WindVest impair vision at night?
With a 5 grade tint the lines in the road are visible at night.
Will the WindVest accommodate a tachometer and/or speedometer?
Some WindVest models are built to wrap around a gauge on the handlebar.
Is the WindVest detachable?
The WindVest is easily removed by unscrewing 2 Allen bolts. The wrench to remove them is included with the WindVest Kit.
Do I have to purchase additional docking hardware?
The WindVest Kit is complete. Included with the kit are the wrench, instructions and care and maintenance information.
How do I take care of my WindVest?
Treat your WindVest like paint or chrome. Use non-abrasive cleaners or waxes.