LOW PROFILE WINDSHIELDS for MOTORCYCLES
*** FREE SHIPPING ***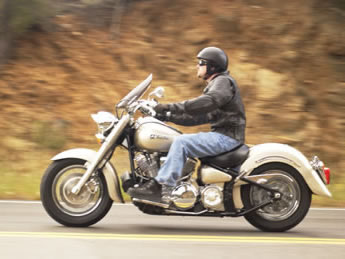 WindVest high performance motorcycle windscreens are built to the highest standard of quality and performance. Our sport windscreens are sleek, easy to install and functional. Windshields are clear or tinted, extra thick 5mm hand molded acrylic, remain steady in strong winds and the custom curvature of the screen deflects wind from the rider's chest and face. Billet aluminum cross-bar brackets offer a clean, custom look - finished in chrome. Standard sizes are 14"W x 14"H for shorter riders or 14"W x 16"H for taller riders (5' 10" and up). Also available is a new 16" X 16" WideBody for maximum protection while maintaining the clean, custom look of a high performance windscreen. The WindVest fits Harley Davidson, Metric Cruisers and many other bikes, as well.
Developed in 1989, after a windblown, bug-ridden ride to Sturgis, WindVest Founder, Norm Dober, had a dilemma... would he give in and buy a standard windshield that worked well but looked wrong or would he build his own. He decided to craft his own. After years of fine-tuning the windshield in his garage, the first WindVest was created.
Over the years, that one WindVest, grew into many, and WindVest Motorcycle Products now sells its sport windshields throughout the world. Although WindVest is the leader in performance windscreens, the spirit born from Norm's garage lives on today.
REPLACEMENT WINDSCREENS for HARLEY DAVIDSON BAGGERS - ROAD GLIDE, STREET GLIDE, ELECTRA GILDE & ULTRA CLASSIC

REPLACEMENT WINDSCREENS for ROAD GLIDE
RELACEMENT WINDSCREENS for STREET GLIDE, ELECTRA GLIDE & ULTRA CLASSIC
home | motorcycle lifts | atv lifts | pwc lifts | boat lifts | mobility scooter | shipping - returns | contact us
All items © Copyright Piper Sport Racks, Inc. All Rights reserved