REPLACEMENT WINDSCREENS for HARLEY DAVIDSON STREET GLIDE, ELECTRA GLIDE, ULTRA CLASSIC
Chrome Trim Pieces now available - $69.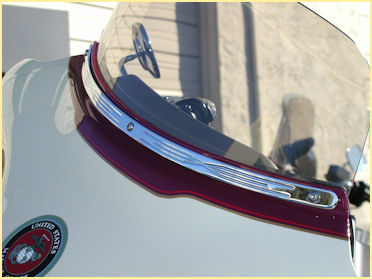 WindVest presents a high performance sport screen for the STREET GLIDE, ELECTRA GLIDE & ULTRA CLASSIC designed to direct the wind a full 3 to 4 inches above the screen's existing height. The patented air foil is built to the highest standard of quality and performance. Our sport windscreens are sleek, easy to install and functional. Windshields are clear or tinted, hand molded acrylic, remain steady in strong winds and the custom curvature of the screen deflects wind from the rider's chest and face. Installs into existing screw holes. For best performance, the top of the WindVest should be in line with your lips so the rider looks over the top not through the WindVest.
Determine your windscreen size by placing the bottom of a level at your mouth(while sitting in your riding position) and spanning the distance to the windscreen. Then, measure the distance from the bottom of the level to the fairing on FLH Baggers. Sizes are 4", 6", 8", 9", 10".
Please read the following before choosing your Bagger Replacement Windscreen
What is the best size for me? The top of the windscreen should be approximately mouth level while you are sitting on your bike (comfortably out of your line of vision).
How do I measure for my Bagger? Sizes are measured from the top of the fairing. Our aero dynamically designed windscreen performs 3 to 4 inches taller than it is. Bigger isn't always better with our screens. NOTE: The 10" Bagger (FLH models) replacement screen is recommended for a rider 6'3" or taller.
6 Inch Gun Smoke
6 Inch Smoke
6 inch Smoke - Side View
REPLACEMENT WINDSCREENS for ROAD GLIDE
home | motorcycle lifts | windvest | pwc lifts | boat lifts | docks | shipping - returns | contact us
All items © Copyright Piper Sport Racks, Inc. All Rights reserved